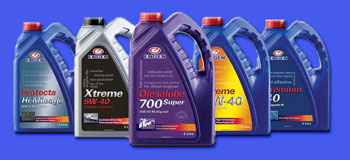 An advanced series of monograde high performance diesel engine crankcase oils formulated to counter the toughest conditions found in diesel engines, from naturally aspirated to older turbocharged units, used in contractor, agricultural and commercial automotive vehicles on and/or off the road. They have excellent resistance to bore polishing, a high level of wear protection, efficiently control sludge and deposits providing superior engine cleanliness at extended oil drain intervals.
Application
It is suitable for most current generation naturally aspirated and older turbocharged diesel engines as well as Detroit Diesel two stroke units requiring a lubricant sulphated ash level of 1%. Engen Dieselube 550 is approved for use in certain final drives and Fuller transmissions, whilst Engen Dieselube 510 is widely used in hydraulic systems and torque converters. The Engen Dieselube 500 series are Allison C-4 approved.
Performance Level
API CF/SF, ACEA E2-96, MB 228.0 (ADE page 8B), Allison C-4, Caterpillar TO-2, Mack EO-K2, MAN 270, MTU (type 1), Komatsu.
Benefits
Long engine life and low maintenance costs.
Excellent protection against wear and corrosion.
Outstanding control of high temperature deposits.
Good control of low temperature sludge and deposits.
Typical Physical Characteristics
| Engen Dieselube | 510 | 530 | 540 | 550 |
| --- | --- | --- | --- | --- |
| SAE No. | 10W-20 | 30 | 40 | 50 |
| Viscosity - cST @ 40 °C | 40 |  100 |  143 |  244 |
| Viscosity - cST @ 100 °C | 6.2 |  11.4 |  14.2 |  19.9 |
| Viscosity Index | 100 |  95 |  95 |  95 |
| Flash Point (°C) | 204 |  218 |  227 |  229 |
| Pour Point (°C) | -32 |  -18 |  -12 |  -9 |
| Total Base No. (mgKOH/g) | 8.0 |  8.0 |  8.0 |  8.0 |
| Sulphated Ash (%m/m) | 1.0 |  1.0 |  1.0 |  1.0 |
Last Updated Second Quarter 2015